Special Warfare Developement Group or DEVGRU for short. These Troopers are the Elite as far as U.S Special forces go.
This Figure has many modifications as anyone who's seen the original figure will notice. It's had new Hands and been totally re-painted for a start!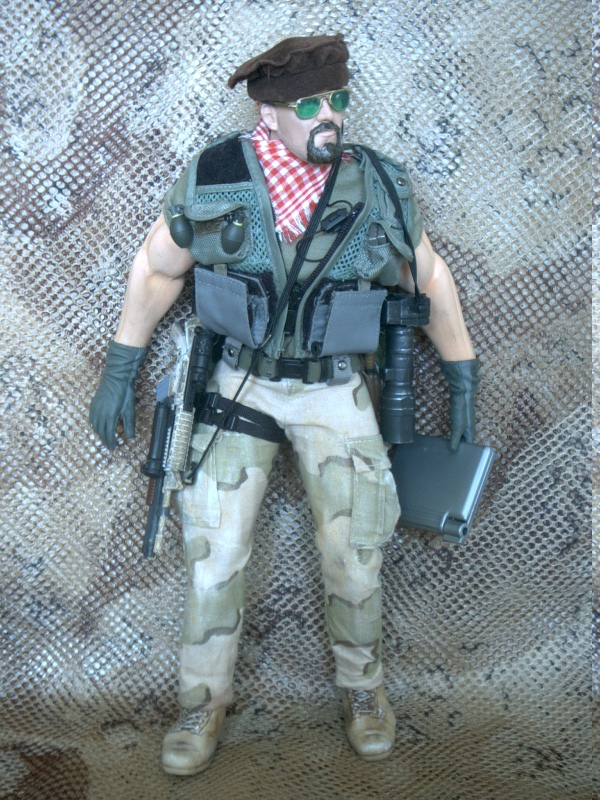 Parts used are from 'Soldiers of The World' , Action Man,GI Joe, Dragon, BBI ,Powerteam and 21st Century.
Figure is based on a modified Jakks Pacific Stone Cold Steve Austin Wrestling Figure
MOPP MARINE
This US Marine is wearing the full U.S Issue Chemical/Biological Protective Suit comprising of Full Head Mask,protective outer 2 Part BDU's,Rubber Gloves and over Boots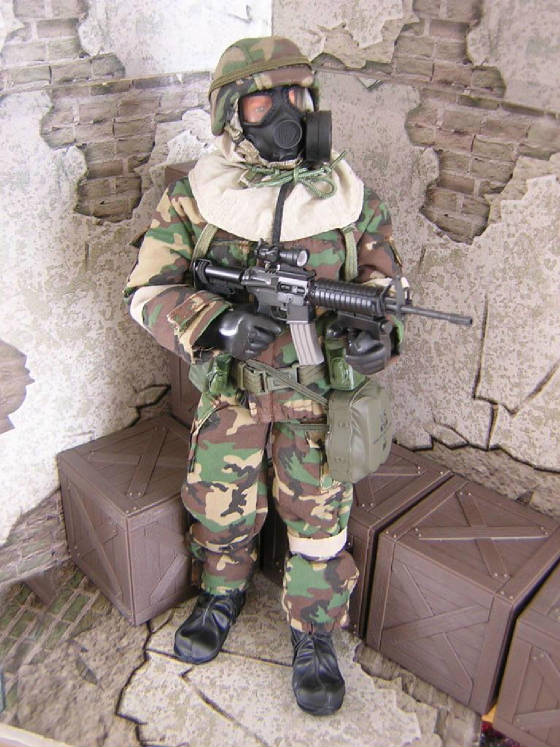 Polish GROM
The GROM (Polish for Thunder)are the Polish Special forces and were officially formed in 1991. They train with the SAS and U.S Delta force and as such use a wide variety of equipment and are trained in all areas of Combat. Their latest theatre of action was Iraq where they supported the British and U.S Forces. This GROM is seen on peacekeeping Duties in Iraq.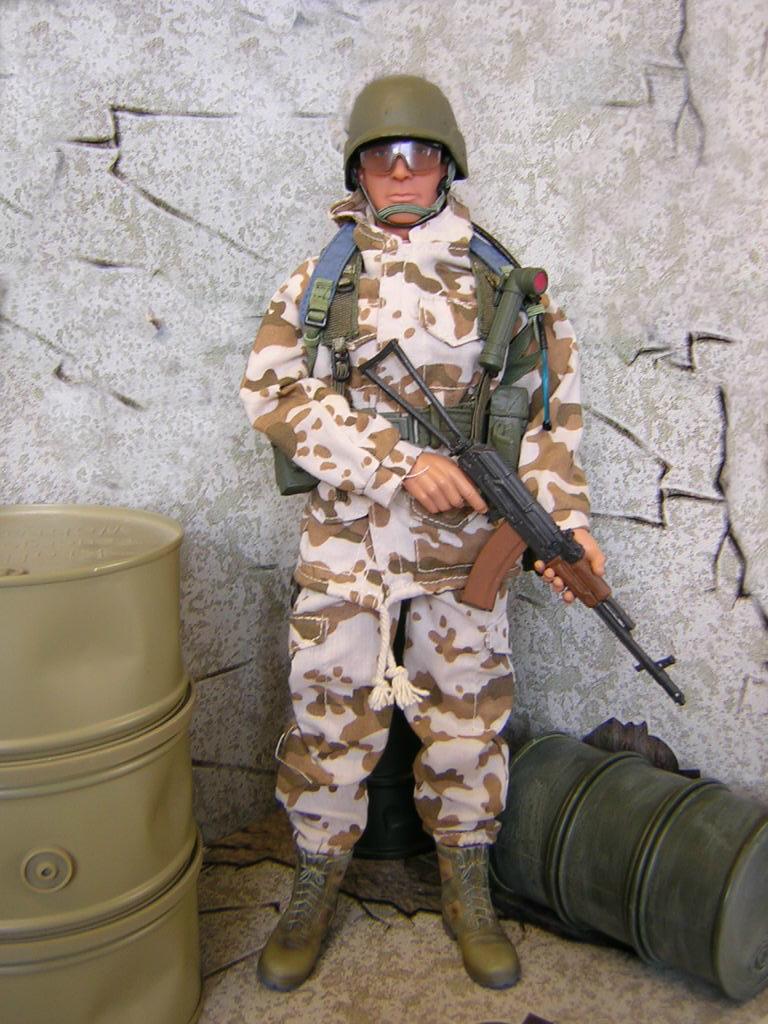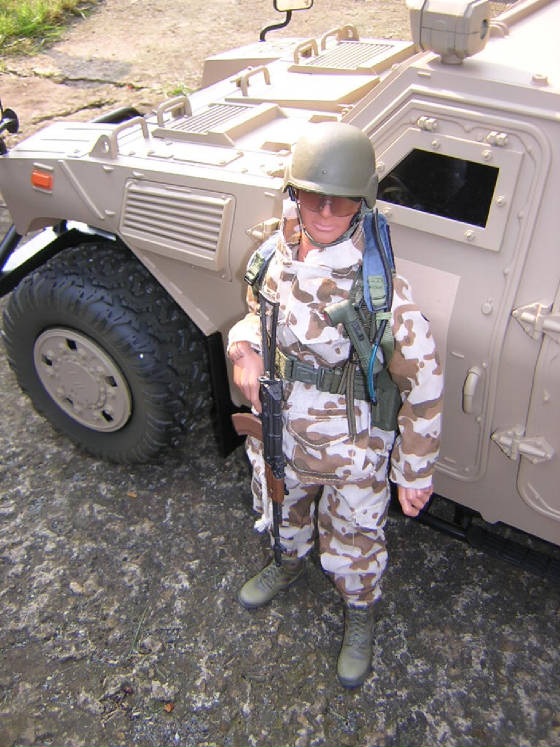 U.S MARINE
A Grunt of the U.S.M.C dressed in the latest pattern 'MARPAT' or Marine Pattern Camo Fatigues,designed by Computer to be less visible by the Eye and to have a smaller Infra-Red signature.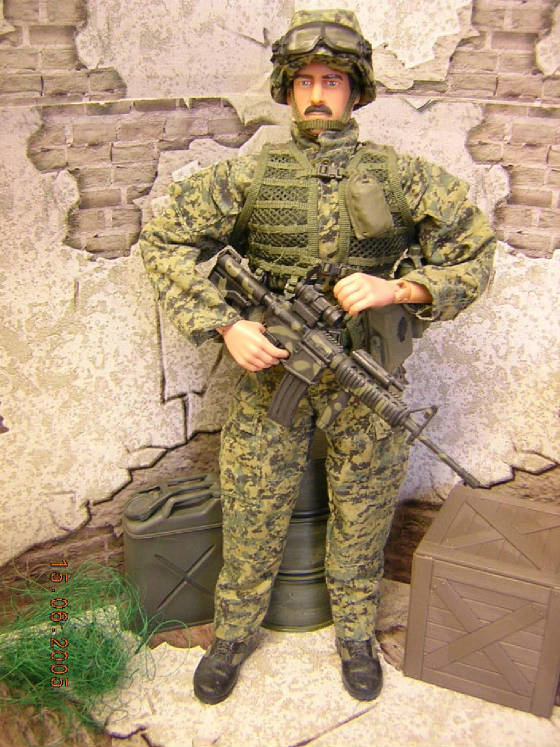 JGDF
Below is a Soldier in the Japanese Ground Defence Force. The Uniform Camo Pattern is very Similar to the modern German 'Flektarn'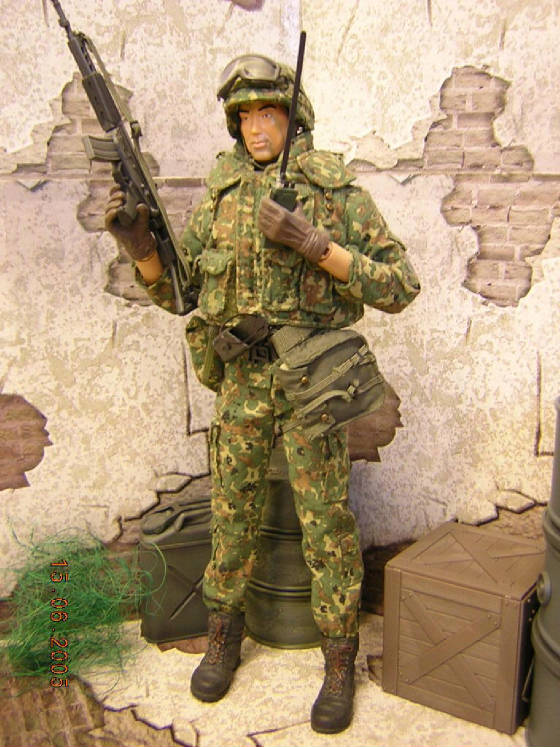 Royal Australian Regiment.
This Soldier of the Australian Armed forces is dressed in 'Auscam',it's similar to the WWII 'Duckhunter' Camo of the USMC.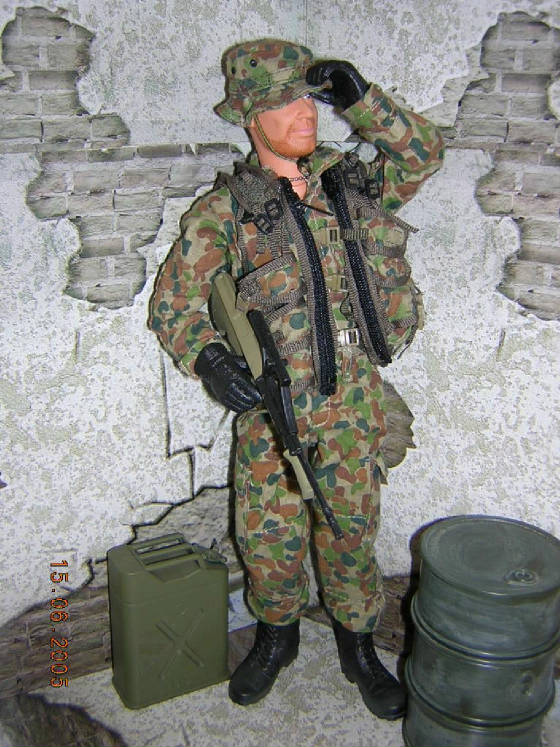 FLECKTARN
This German Soldier is dressed in the Temperate Camo 'Flecktarn',the Germans equivilent of DPM or the US 'Woodland' Camo.This Camo pattern can be traced back to similar designs used by the Germans in WWII.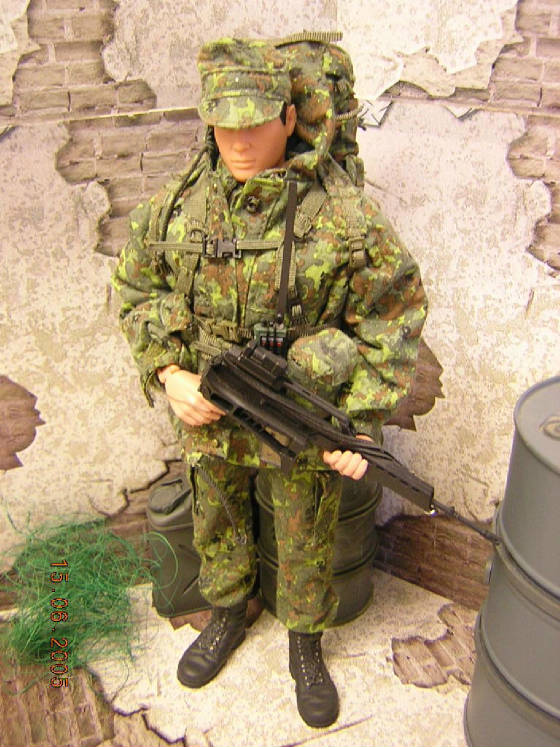 As you can see both of these Soldiers are armed with the Heckler and Koch G36 Assault Rifle,one of the best Assault Rifles in the World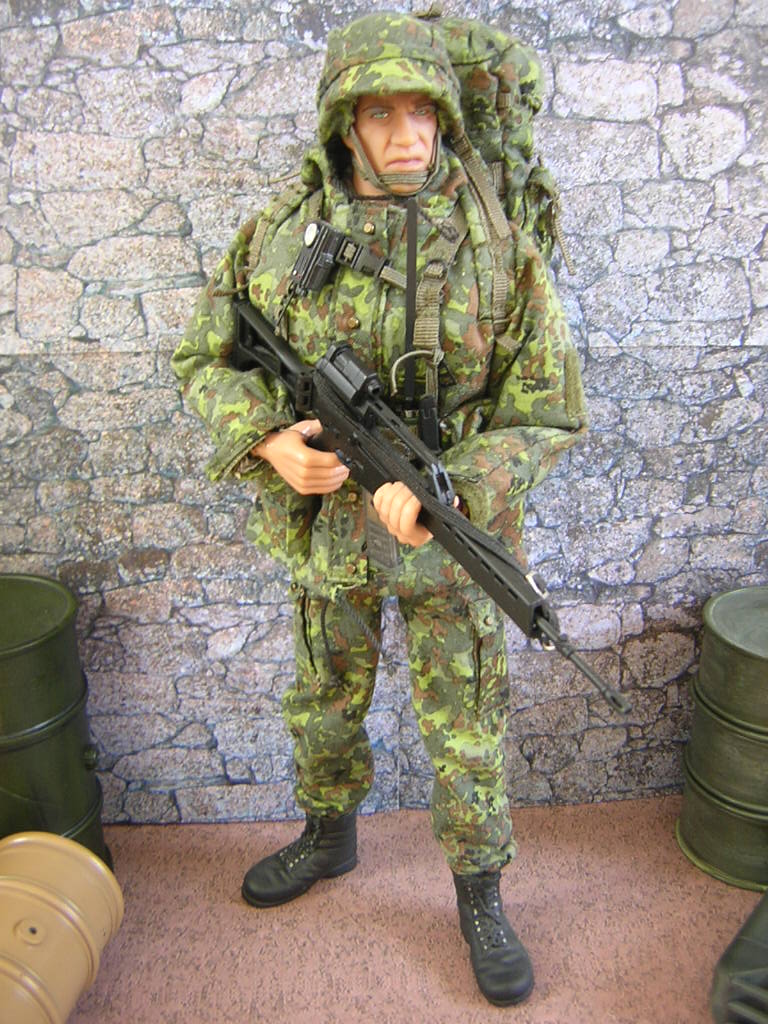 TROPENTARN
This is the Desert variation of 'Flecktarn'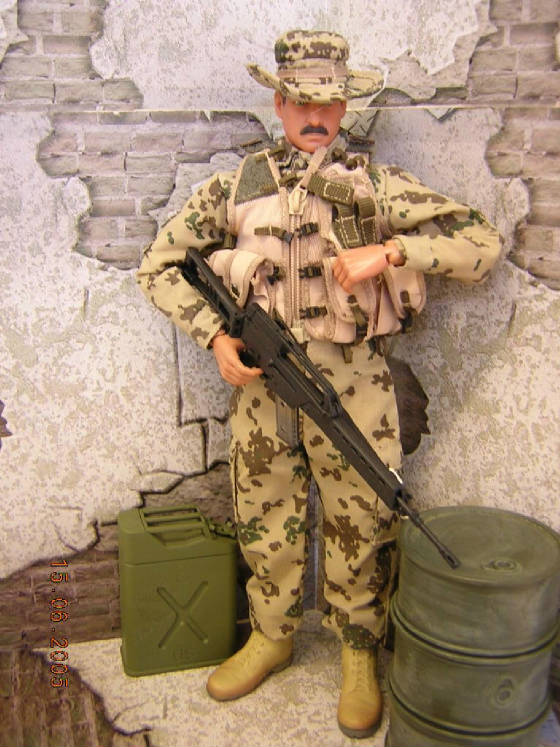 US NAVY SEAL TEAM MEMBER
SEAL Team Member checks his MP5 Magazine before setting off on Ops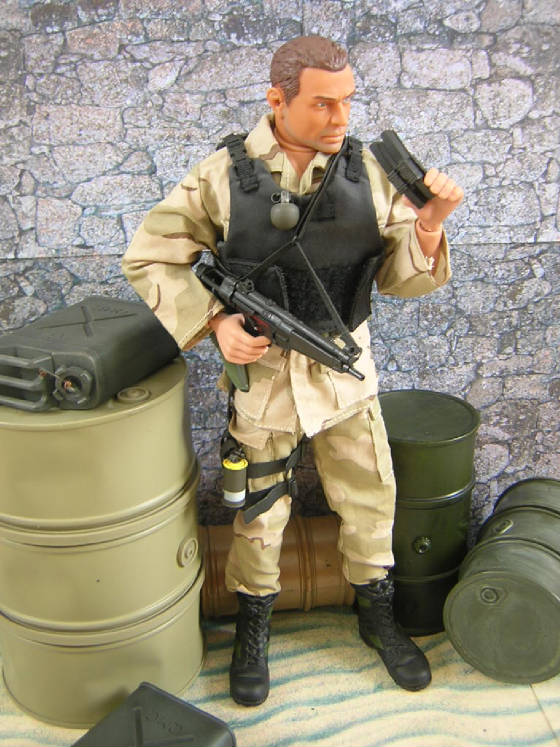 American SEAL Teams along with Delta Force and the SAS were in the forefront of the action during the hunt for Osama Bin Laden
SEALS are seen to be one of the Elite Units in the US Military and have the Choice when it comes to Equipment requirements.This one has Chosen to wear native Headgear to blend in and to use the Russian made Dragunov Sniper Rifle to disguise the recognisable sound of US made weapon fire but has an UZI just in case.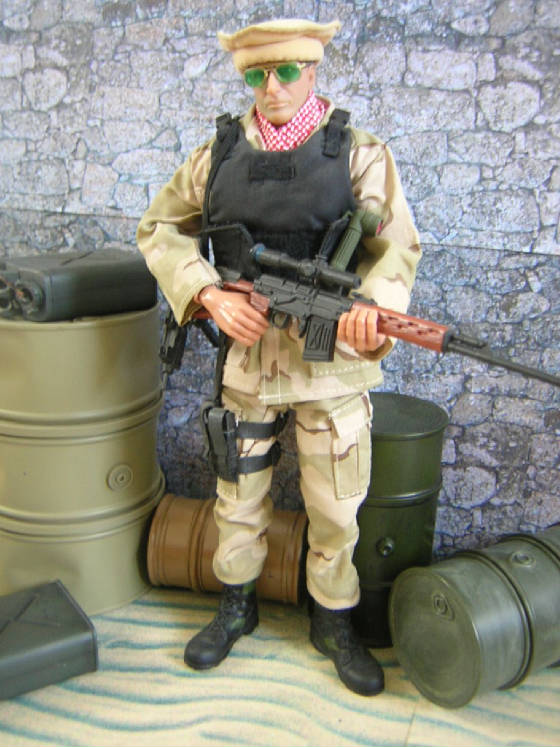 US MARINE
(Afghanistan-search for Osama)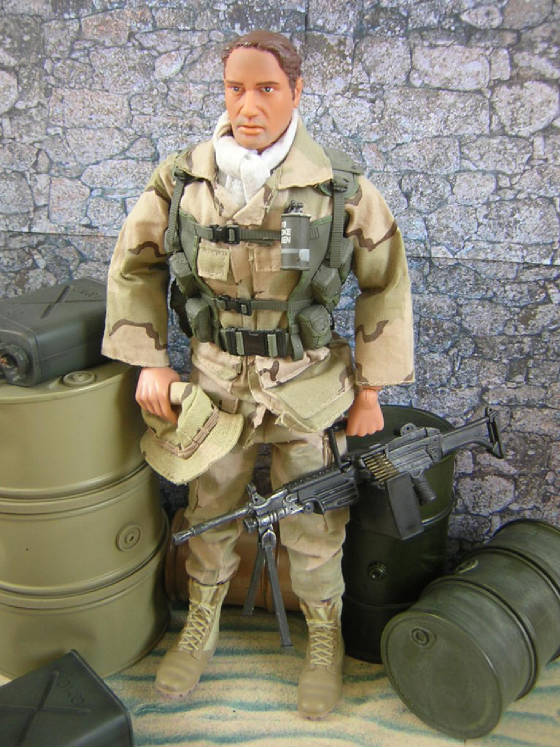 US ARMY 75th RANGERS
The Rangers were formed during WWII and have been in the forefront of US Military Actions ever since. This Recon Ranger is armed with a Short M4 with a Long Mag,not the Long Ammo pouches to match.