VINTAGE KNOCK-OFFS
In this section you'll find Pictures and information on Figures and Outfits manufactured in the 1960's to the early 1980's that came to be known as 'Knock-offs' as they sometimes copied the Mass Market Figures of their time e.g Action Man or GI Joe.
I have quite a large collection of these as I find them very enjoyable,I had lots of these as a Child as the Branded items were expensive and for a little Boy these were just as good!
ACTION BUDDY Shore Patrol Uniform on unknown Figure
(Big thanks to Beverly Welsh who kindly donated the Uniform)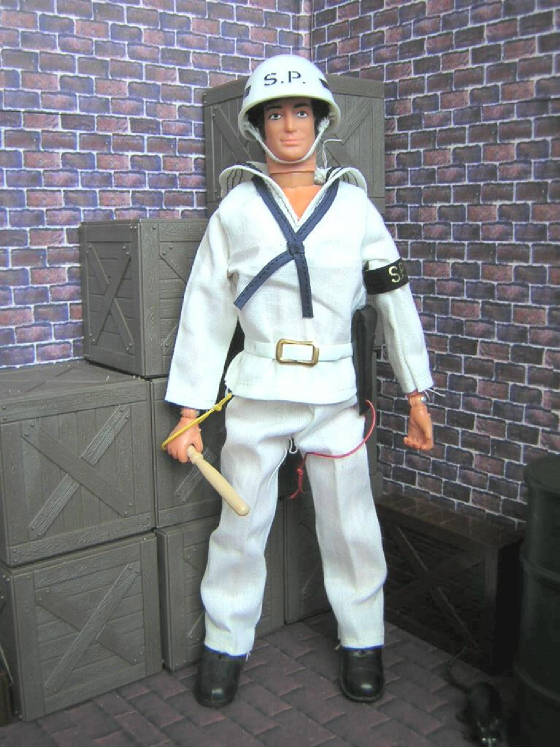 Bearded DYNAMAN in Dynaman 'Cavalry General' Uniform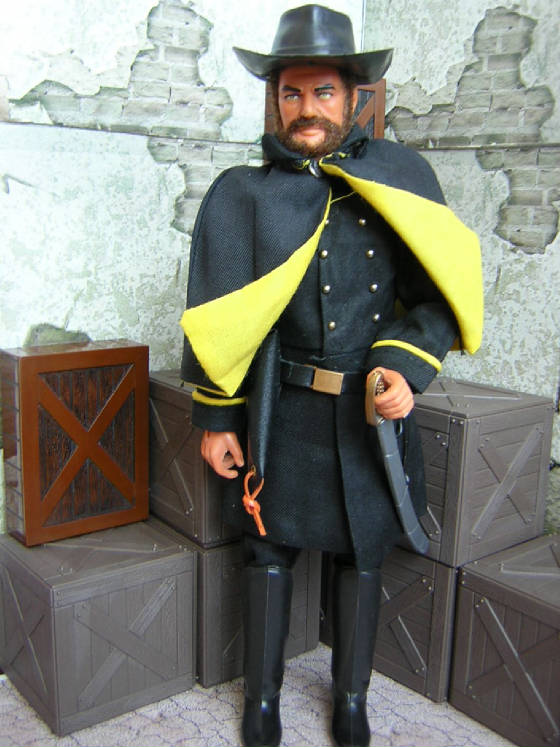 Clean Shaven DYNAMAN in 'Adventure Man/Dynaman' Mexican Outfit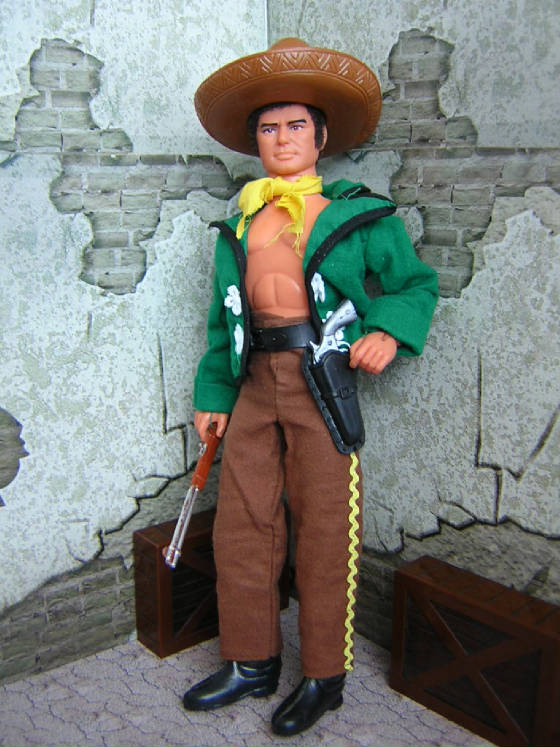 'Hombre D'action' Figure in unknown Vintage Cowboy Outfit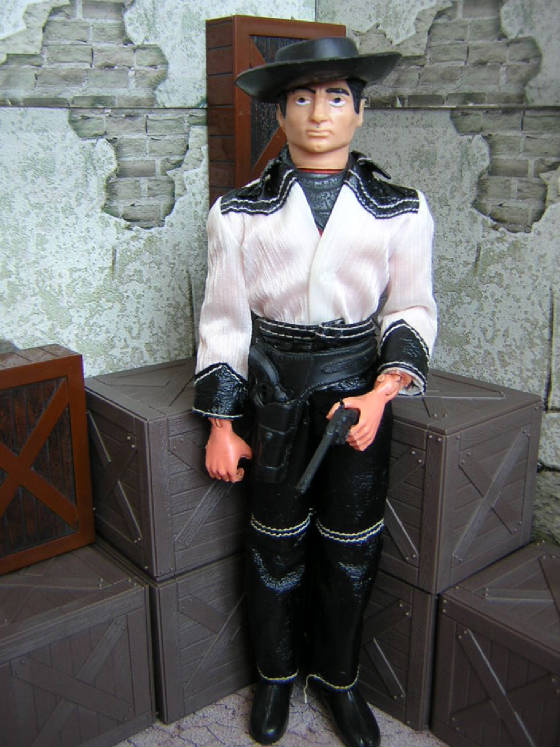 REDBOX Dress Marine,these figures measure around 10'' and are average quality although the Uniforms are well made.
A Selection..................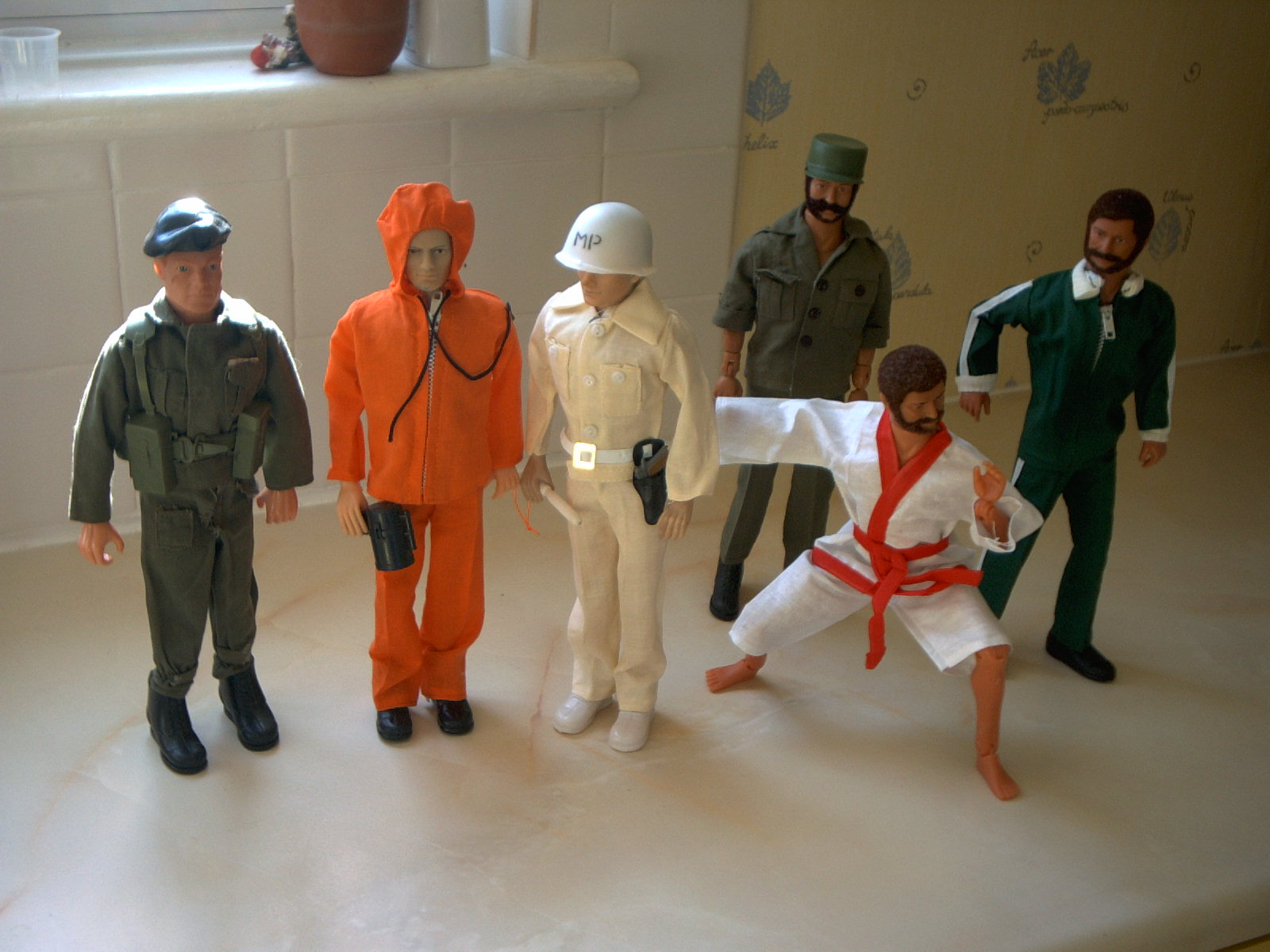 Above L-R
The Figure first on the left is a modern Day GI Joe 'knock-off ' Figure with a Vintage 'Fighting Yank' Uniform. The Manufacturers of 'Fighting Yank' were actually taken to court by the Manufacturers of GI Joe as their Figures and Uniforms released at the time were almost exact copies of the GI Joe items!. Second and third from left we have two very similar looking figures,identical apart from the makers mark in fact.The one in the Generic Orange Boiler suit is a later 'Fighting Yank' Figure and the Figure dressed in the 'Action Outfits' MP Uniform is a 'Mintex' Figure,both were obviously made from the same moulds in Hong Kong as were the later Cherilea Figures but how they came to be marketed so widely under different names is a mystery.The last three Figures with the Beards are made by 'Fairland Toys' ,these are unusual as they are well articulated for 'Knock-offs' which usually just make do with the very minimum amount of moving Body parts. These are all dressed in generic 'Action Outfits' another brand of Outfit manufacturer!!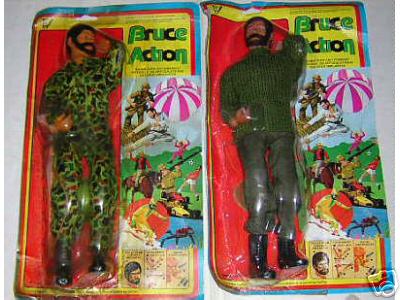 Above are two different version of the Fairland Toys figures,these are called 'Bruce Action' but were called different names depending on the country they were being sold in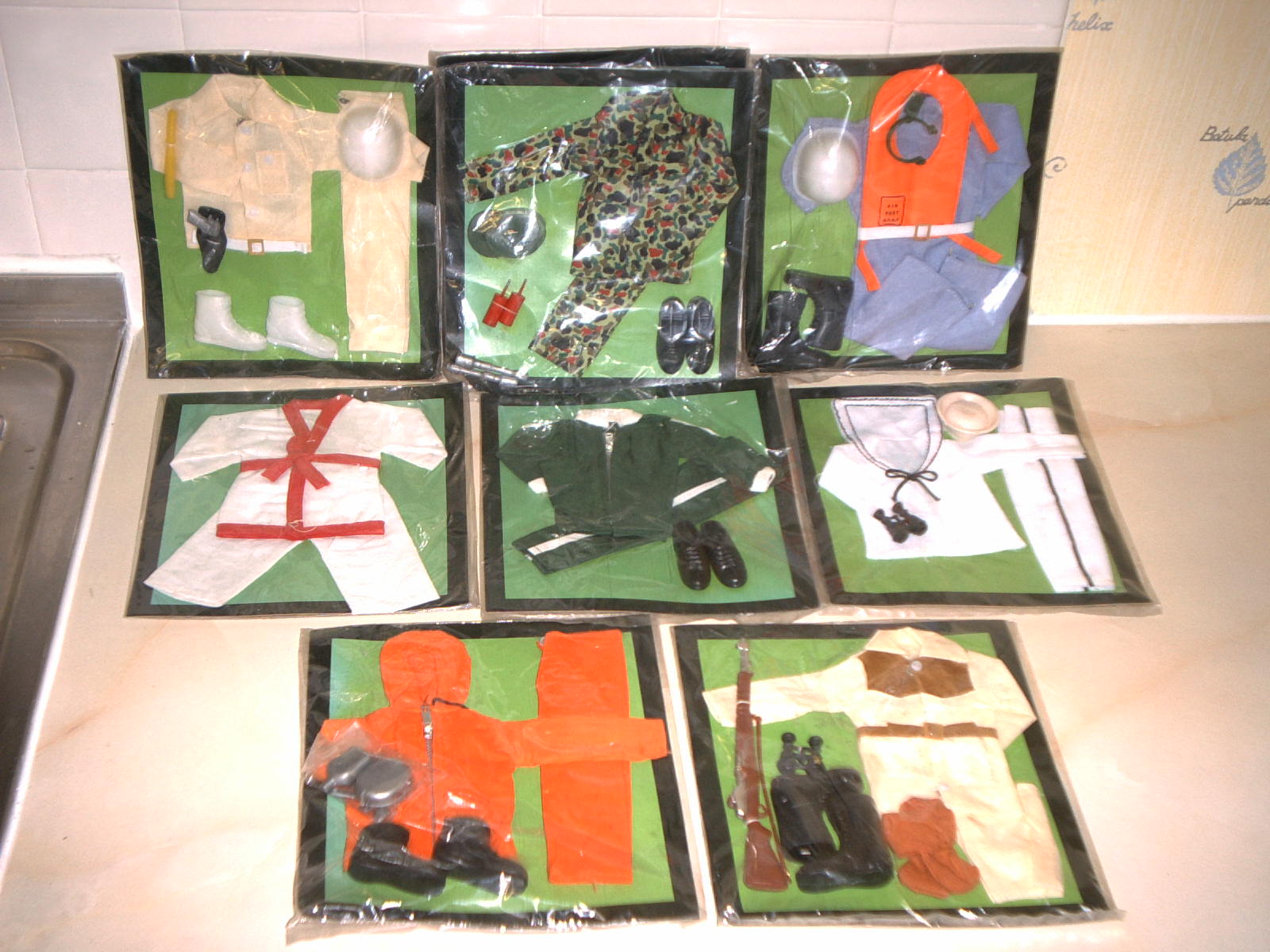 The Uniforms shown above are the same as the 'Action Outfits' mentioned earlier but have no Manufacturers name on them just the usual 'Hong Kong'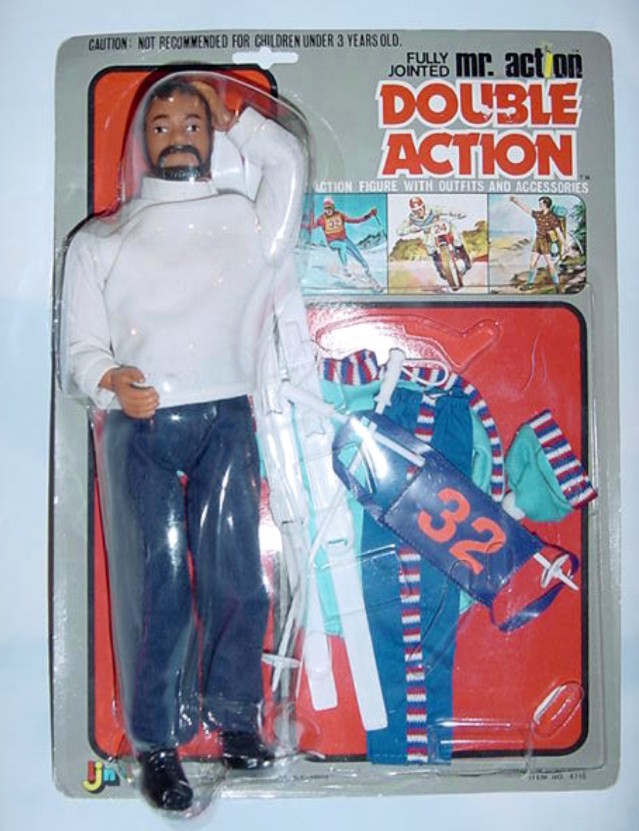 'Mr Action' and his Brother 'Double',
One of my Favorites; Mr Action was a very basic Figure with moveable Arms at the Shoulder and Legs at the Waist,he twisted at the Waist too! he also came with a large selection of various Outfits but to keep up with the masses of other 'Knock-offs' he was reborn as 'Mr Double Action'. Basically they kept his head and gave him a new Body with Wrist,Elbow,Shoulder,Ankle. Knee and Thigh joints and this is how you see him here. Definitely one of the better quality offerings.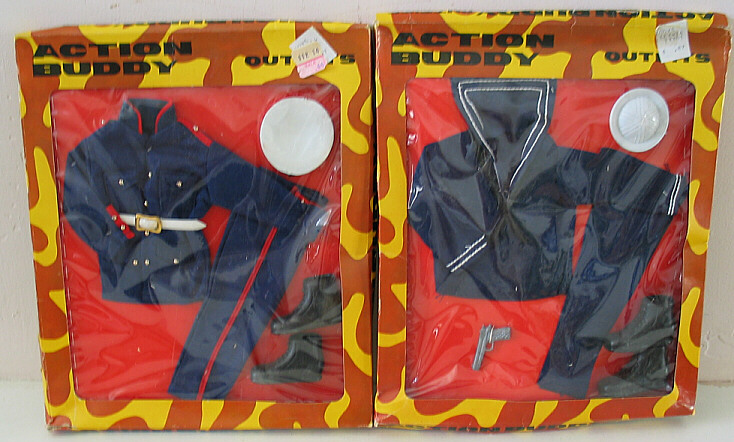 'Action Buddy' was another range of Figures and Outfits around at the time,the Figure was very basic but as you can see the Uniforms were quite nice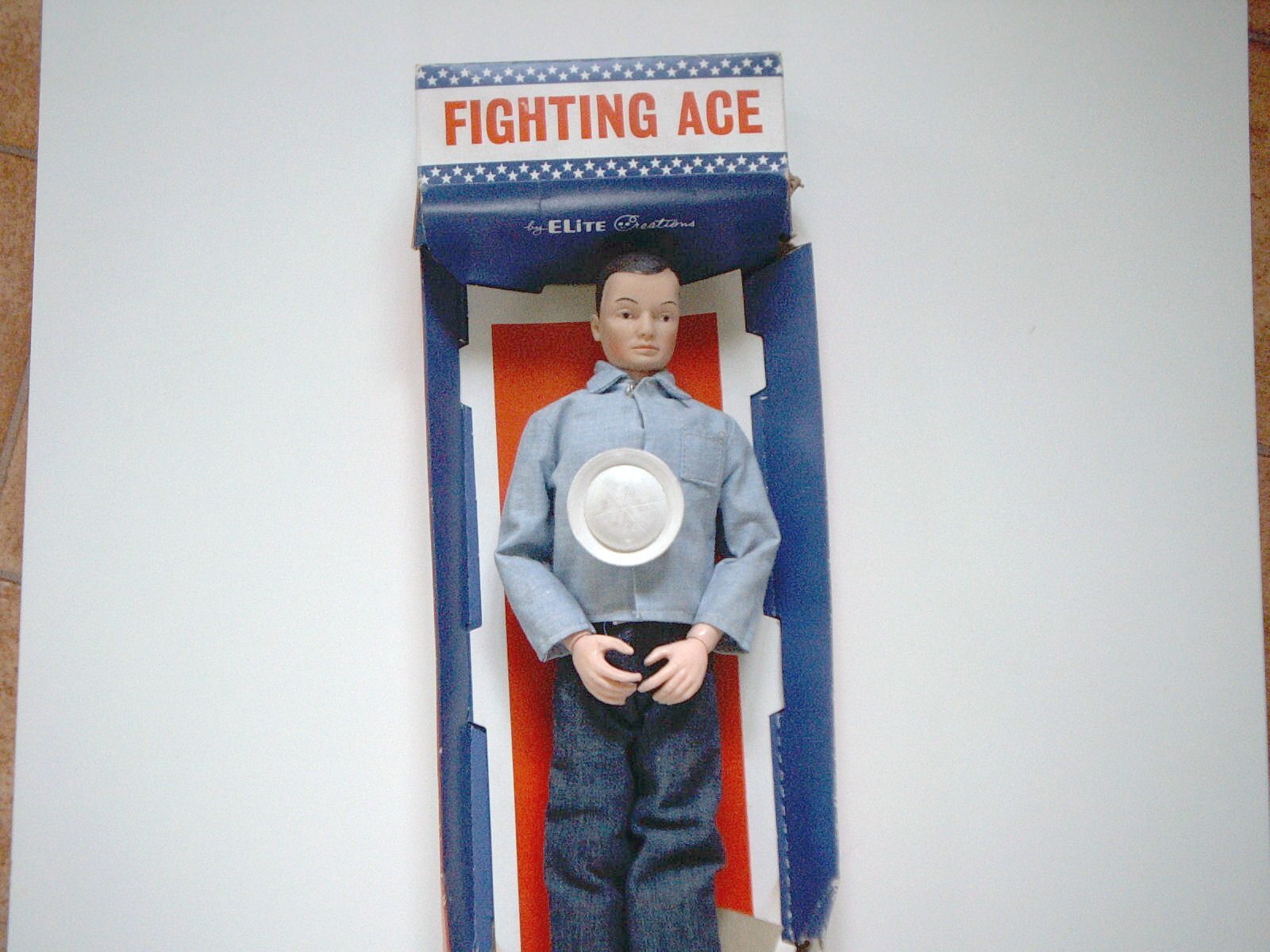 'Fighting Ace' is one of the harder to find Figures and also one the better quality ones,unknowingly lots of GI Joe/Action Man collectors probably have pieces from a 'Fighting Ace' or a 'Fighting Yank' set in their collections,they are that good.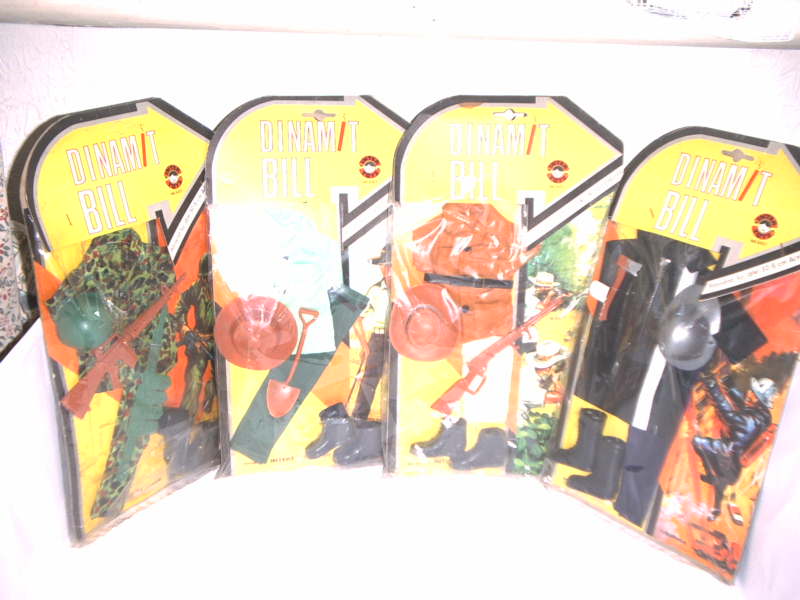 'Dinamit Bill' was yet another Figure with Outfits and Accessories but this was was for the European Market,Germany in fact and this line had a good range of Outfits too,where as alot of the other 'Knock-off' Manufacturers used the same items but under different names.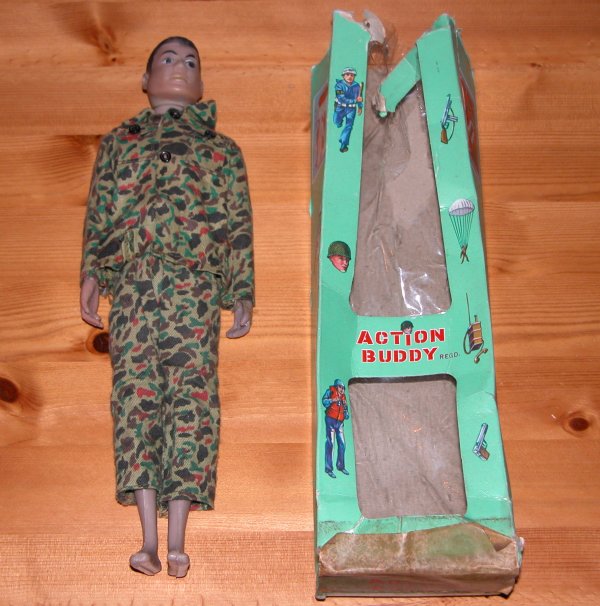 Above we can see just how basic the 'Action Buddy' Figure was.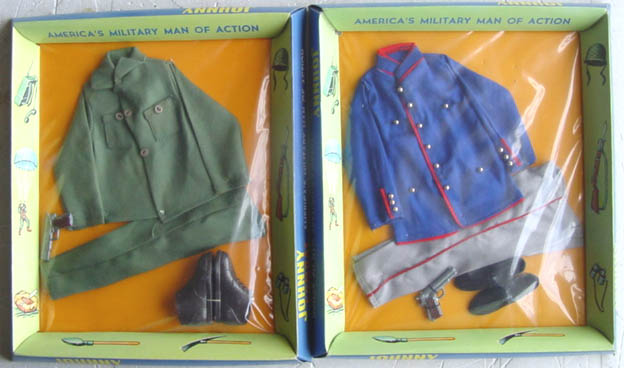 'Johhny Combat' Outfits are quite sought after by collectors and when you have one you know why,they are very good quality as you can see above.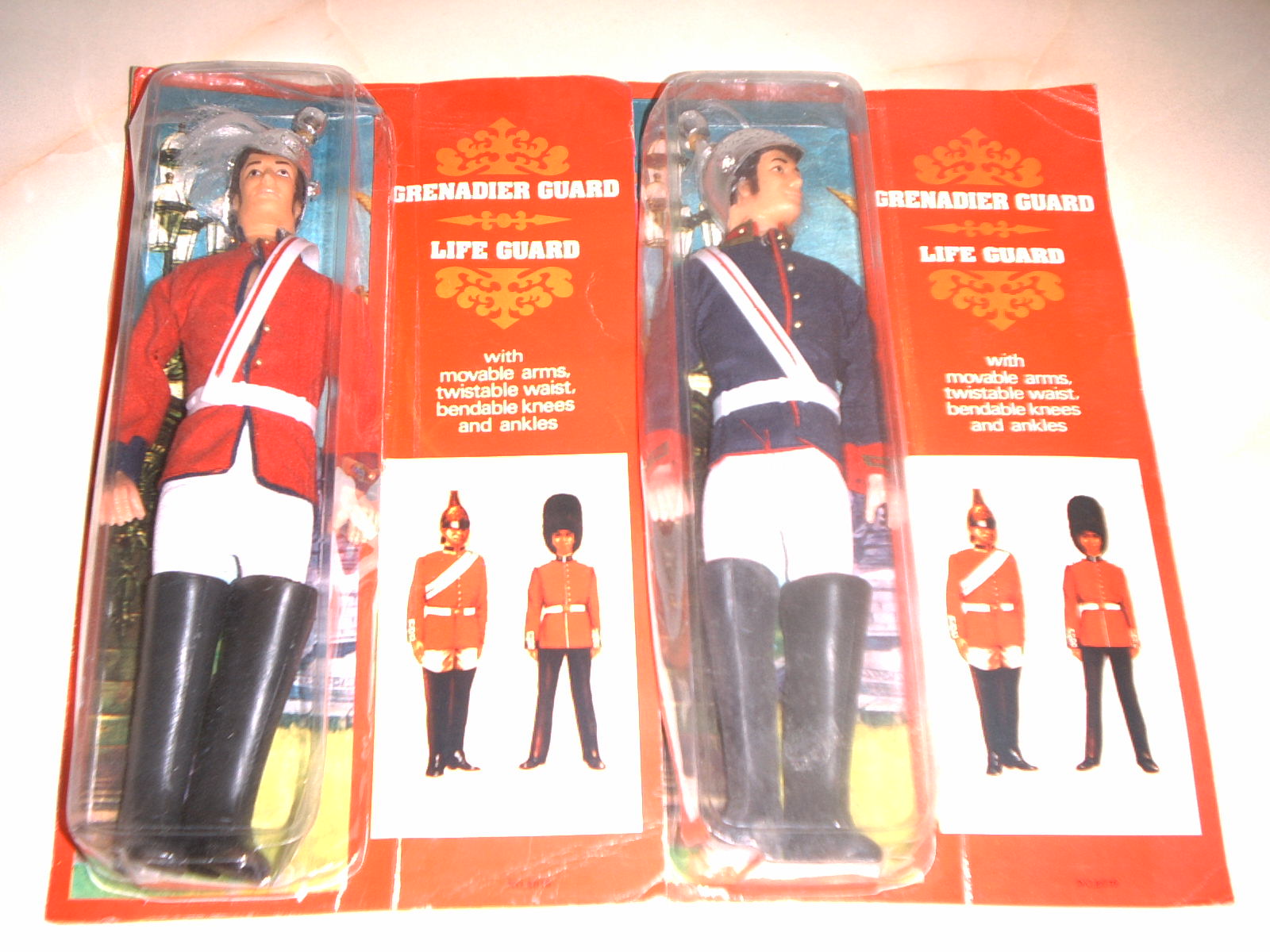 'LIFEGUARDS' these Figures look to have been made using the same moulds as the Cherilea and later 'Fighting Yank' Figures.These were made to cash in on the Tourist trade in London.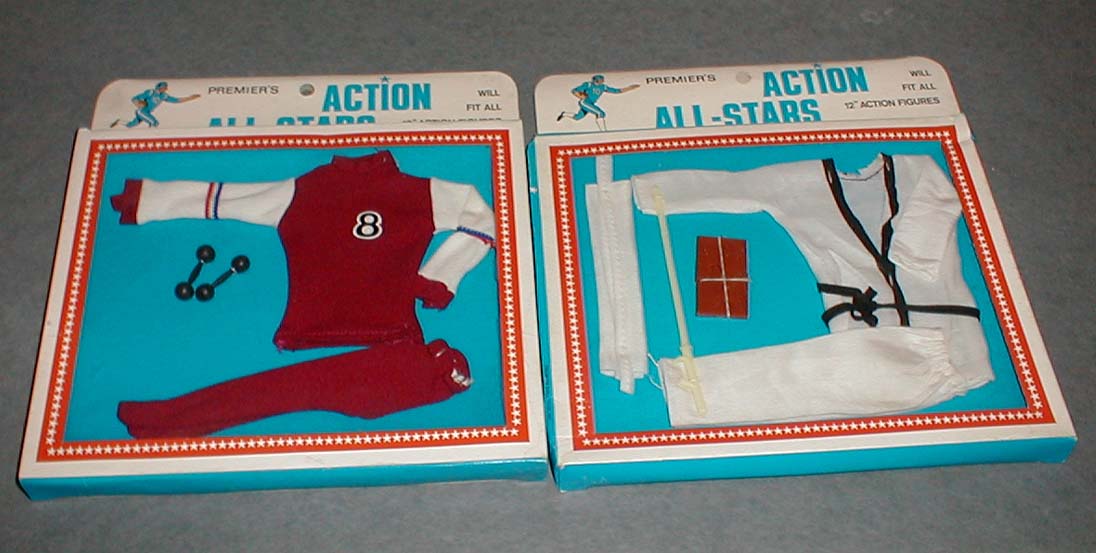 This range of Outfits went under the name of 'Action All-Stars' and portrayed the favorite American Sports at the time and because of their Sporting theme they are hard to get hold of these days.
DYNAMAN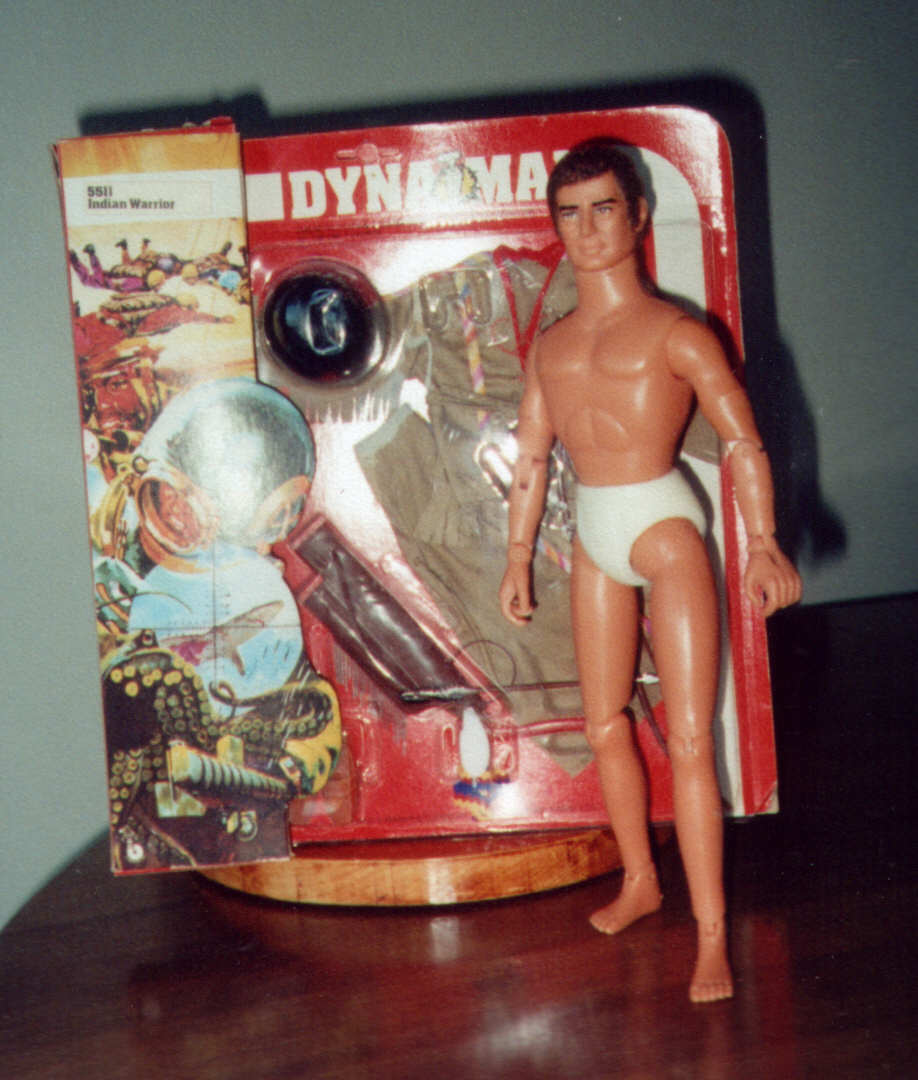 This is my favorite Figure of all,I'm not even going to call it a 'Knock-off' as I think it belongs along side Action Man/Jo/ Geyperman, GI Joe and Tommy Gunn. 'Dynaman' was a Spanish Figure and is one of the best quality vintage Figures you'll find. He has excellent articulation,a good Head sculpt and some damn fine Outfits,the Cavalry General is one of the best of that time period from any manufacturer and is as good if not better than the Action Man Ceremonial line.
If any one has any 'Knock-off' items (especially 'Dynaman' Figures) for sale please contact me.
'Dynaman' Cavalry General Uniform.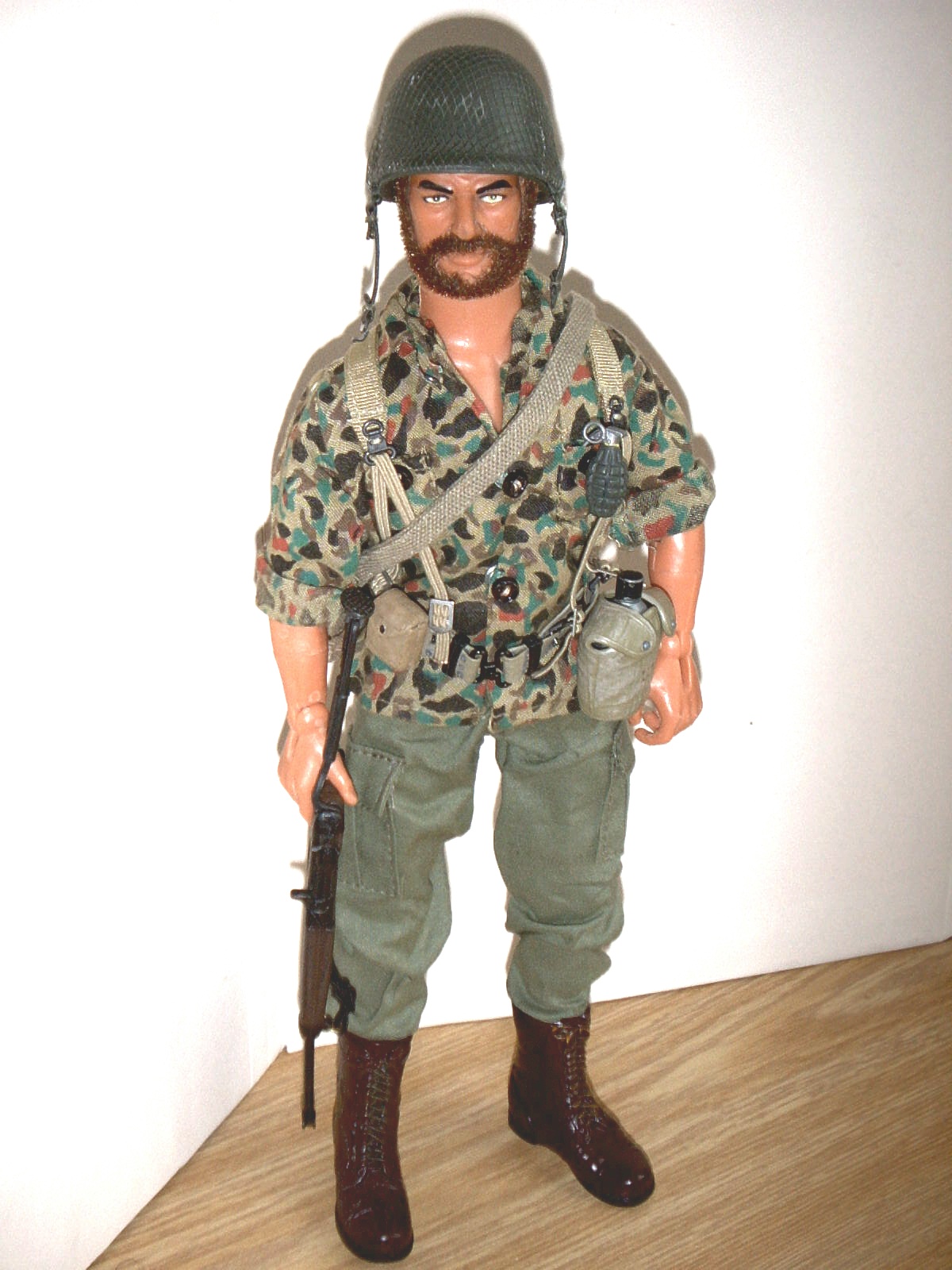 One of my 'Dynaman' Figures dressed as a French Foreign Legion Para in Vietnam 1954
MORE TO COME.............