This is where you'll find some of my Vehicles and Various other types of Transport
VIETNAM ERA M38A1 R/C JEEP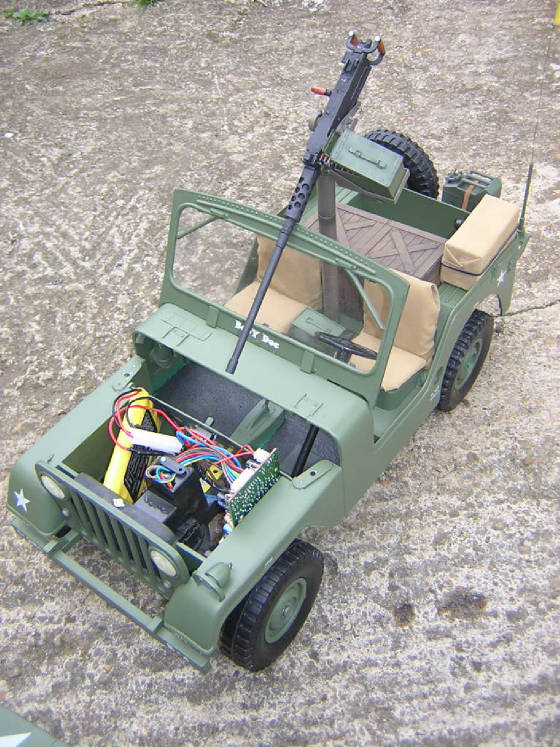 This Jeep started life as a 1960's issue Marx' Command Patrol' Jeep . It was pretty battered when I got and needed lots of work to just repair it. Once I'd gone that far I added the guts out of an R/C Monster Truck,hence it's now Radio Controlled!.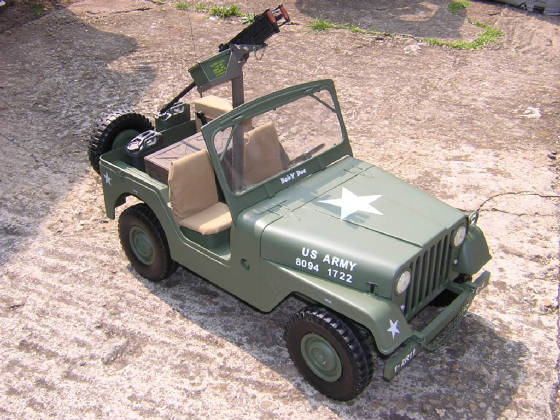 Once all the R/C Bugs had been ironed out I set to detailing it. I removed the old moulded Seats and made new ones and padded and upholstered these,added Gearsticks,Fuel Can carrier,spare Wheel carrier,Radio and Antennas,new Fenders,grab rails,Hood fittings,Tow Chains,engraved Panel lines and lots more. This is the end result.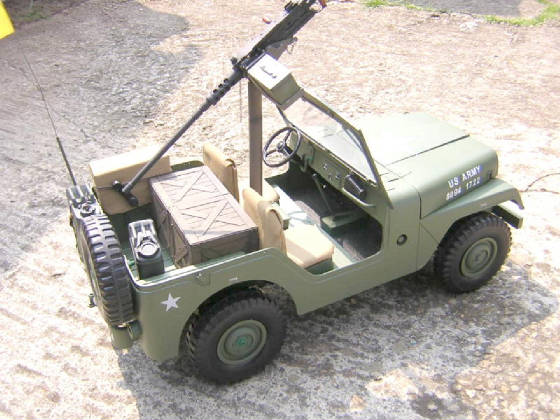 R/C JGDF LIGHT ASSAULT VEHICLE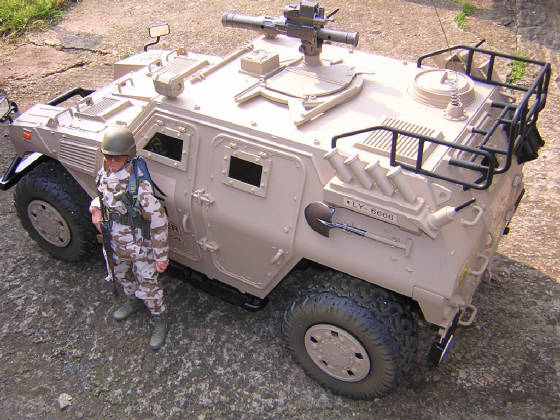 JAPANESE GROUND DEFENCE FORCE LIGHT ASSAULT VEHICLE CURRENTLY IN USE IN IRAQ WITH THE JAPANESE PEACE KEEPING FORCES THERE.THIS ONE IS ON LOAN TO THE POLES!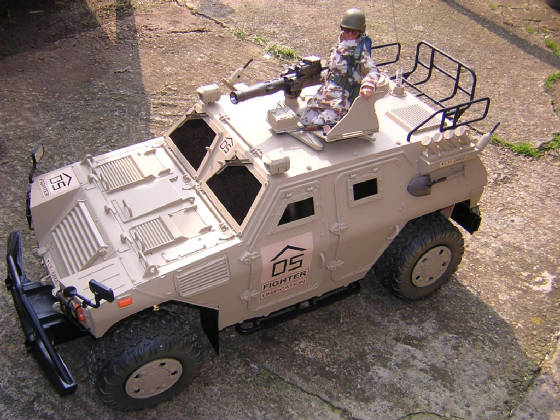 R/C M113 ACAV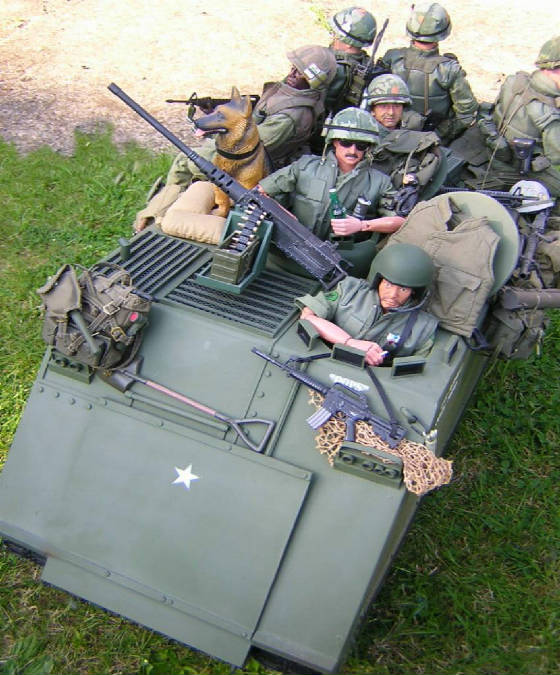 Here are a few Pictures of a project I started a couple of Days ago. I had a Radio Controlled Tank Chassis lying around and thought it might do for a M113 that I've had planned for ages,I even had the parts cut ready to go but sadly they were too large for this Chassis but undetered I started again and knocked this slightly underscale thing up in a few Hours.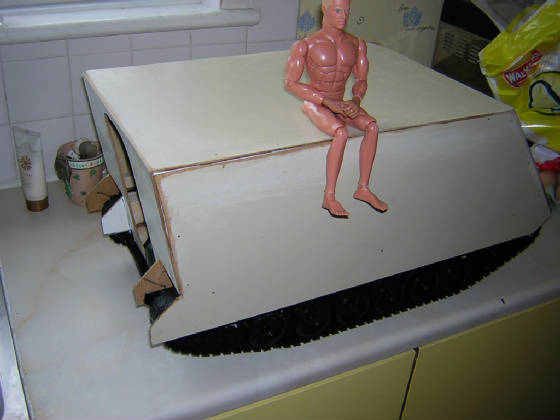 The main Body is made out of Hardboard,courtesy of an old Wardrobe! and 2cmx2cm Pine Baton. I knew this wouldn't be to scale and being R/C it would get a few knocks so hyper realism and detail wasn't a priority.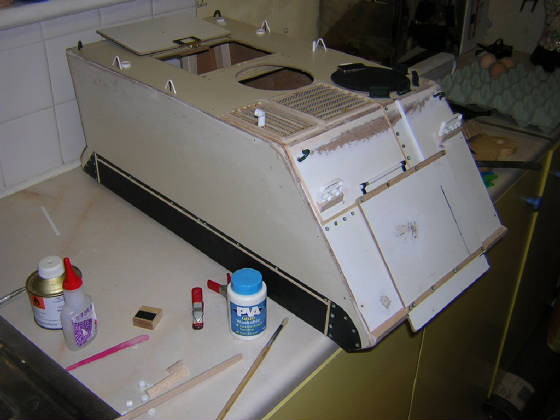 Although detailing wasn't top priority it had to look like an M113 so a certain amount had to be done.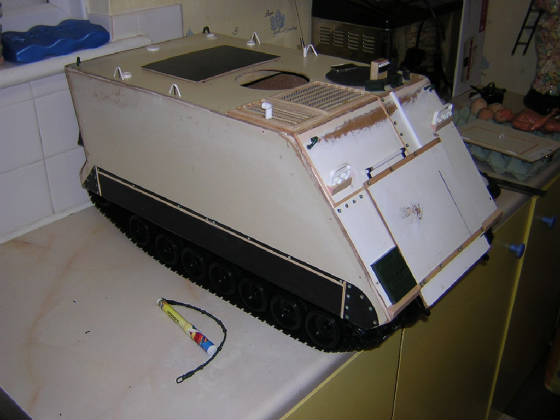 Here's the body before painting.You may notice there is no Commanders Cupola,I had a slight mishap and destroyed the original whilst painting the interior and I haven't finished the new one yet.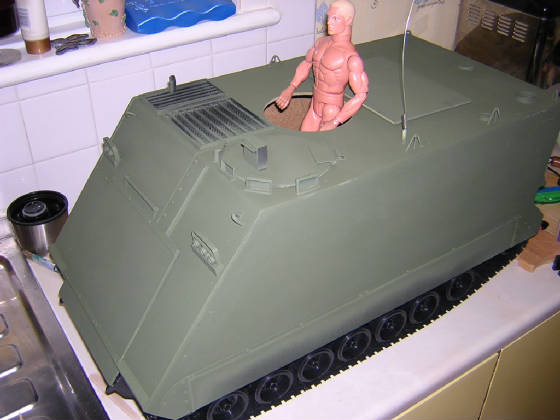 I couldn't resist chucking some paint on to see what it looked like,it's not finished yet but as soon as I finish the Commanders Cupola and add more Paint,Decals and Weathering I'll be posting up some more Pictures. It runs like a dream too............
CLICK HERE to play video of my M113 in Action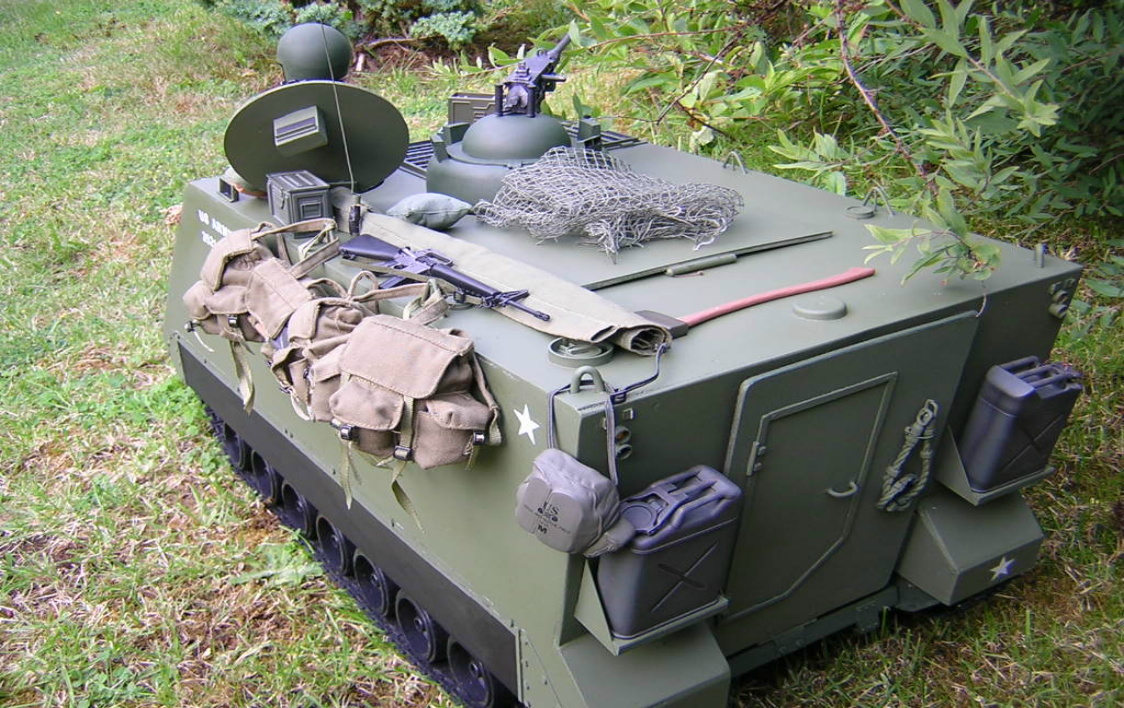 Well here it is,almost finished. The weathering needs to be done but that's about it really.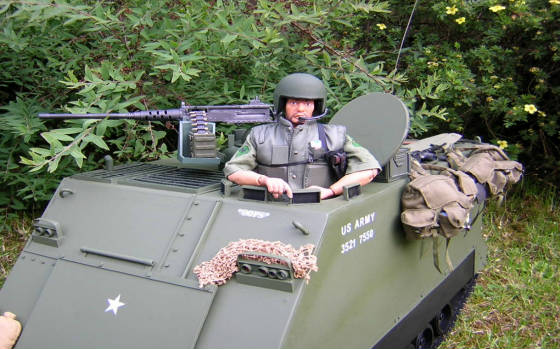 GI JOE HUMVEE
Very nice Vehicle this,all the Doors open and the Bonnet opens to reveal a detailed Engine plus the front Wheels turn from left to right. The only downside is the poor Armament mounting and MK19 Grenade Launcher oh, and the price! (just sold this one too)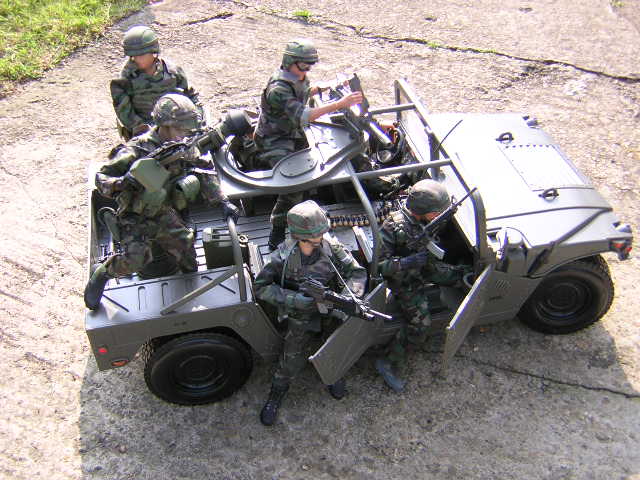 HUMVEE H2 by Torque Horse
This is my latest Toy,it's a Humvee H2 in 1/6th by Torque Horse (New Ray really!). I have been thinking about getting one of these for a while but wasn't keen on the Shipping Costs from the U.S but when they became available here at Christmas and hence flooded ebay I couldn't resist getting one.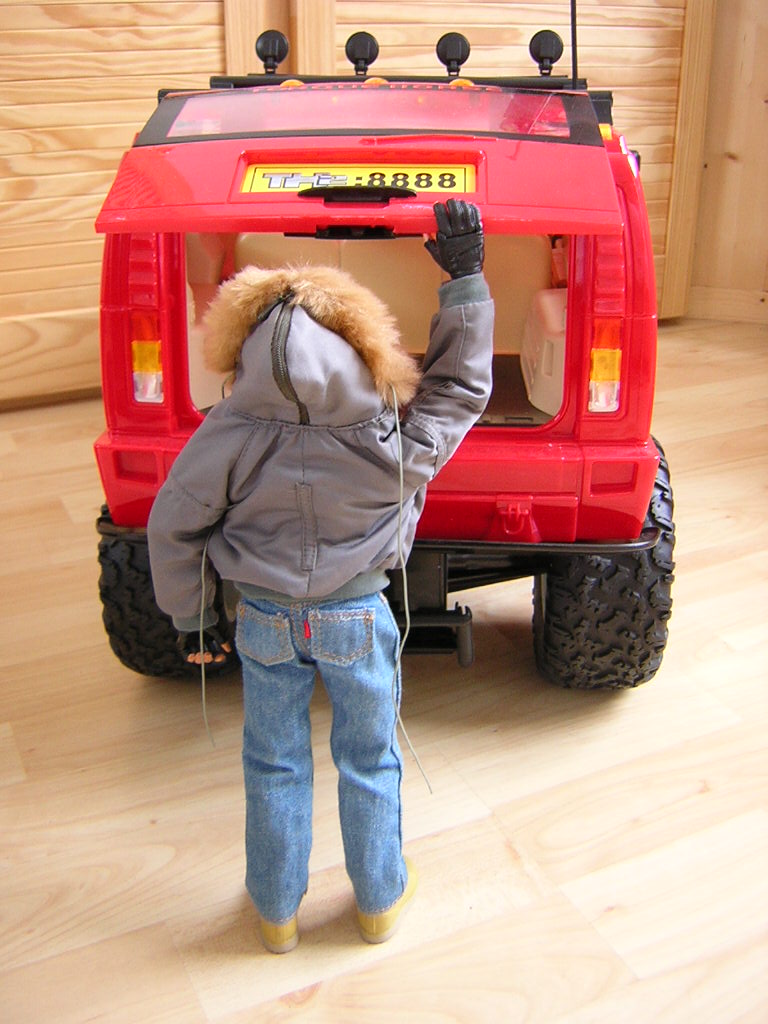 It's quite a big beast but not really 1/6th,compared to the GI Joe version I have this is a little smaller but not by much!. You can easily fit two 12'' figures in the front and the rear Hatch opens to allow access there but rear Seat Passengers aren't catered for in this Humvee I'm afraid.
The Performance of this thing isn't too bad,dont use it on your Laminate or Vinyl Floors as it just Wheelspins and damages things (Ask my Partner!) take it outside and it's good fun.The sound effects are annoying but you can turn these on and off along with the lights.
SPECIAL FORCES JEEP
This is my latest Toy,it an R/C 1/6th Jeep and it's packed with features; Working Lights,Wipers,Horn,Doors,Boot,Bonnet etc and you can actually fit Four figures in it too. I'll take some better Pics when I get the chance.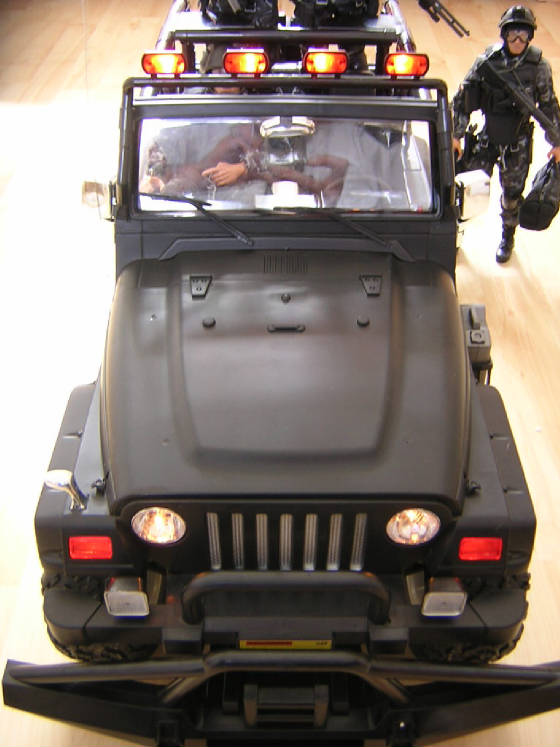 VW GOLF CABRIOLET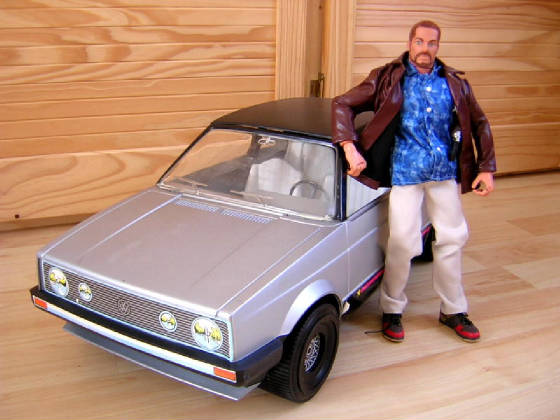 PORSCHE BOXSTER + VW CABRIOLET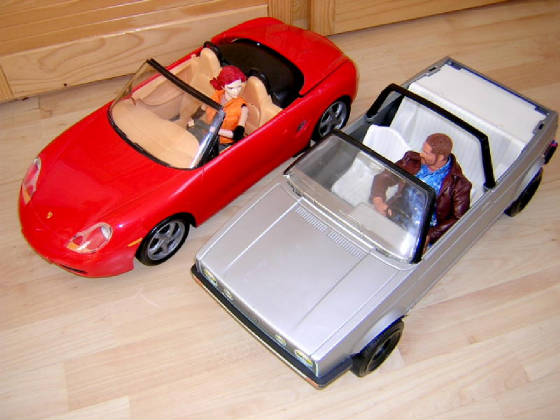 PORSCHE BOXSTER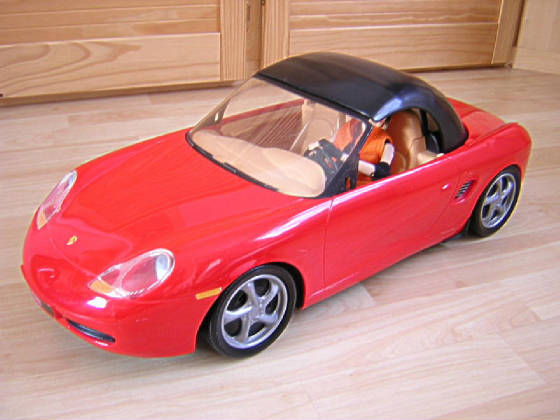 RANGE ROVER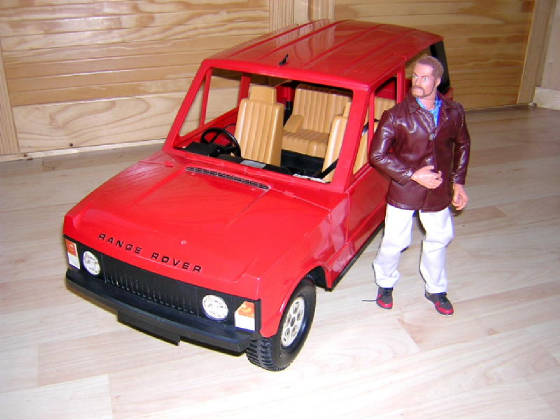 POLICE P/O VAN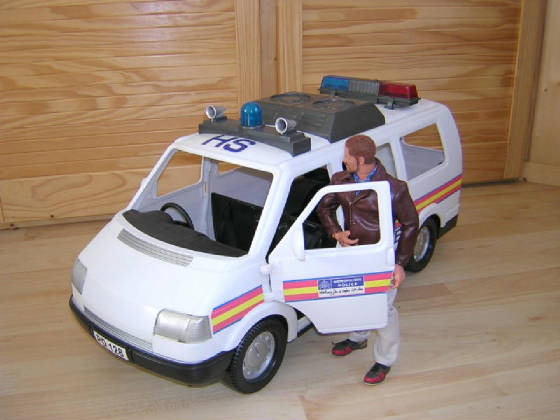 BMW C1 MOTORCYCLE
I couldn't resist this when I saw it!.
This is BMW's funky 'Safety' Motorcycle the C1.
This Model actually works,press a button and it shoots off at quite a rate,Horn blowing and Lights flashing with the Engine revving away!!!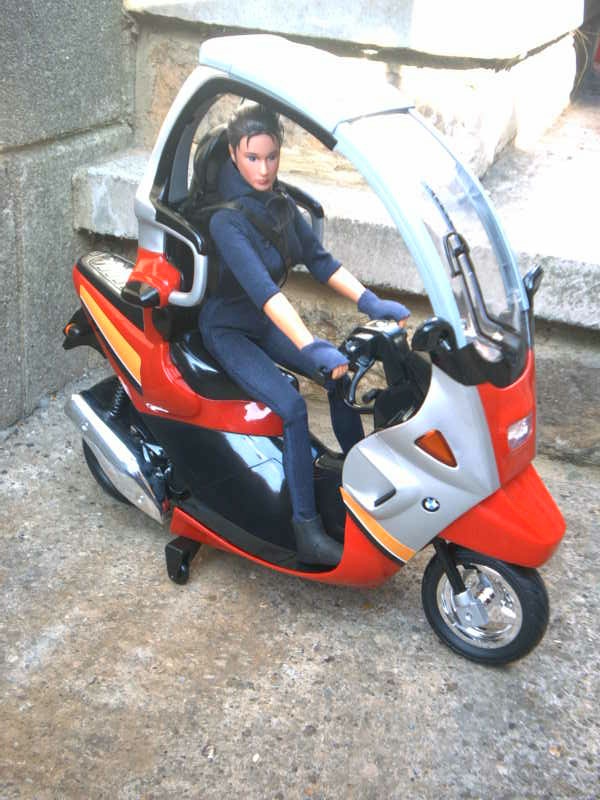 21ST HUMVEE CHOPPED AND CROPPED!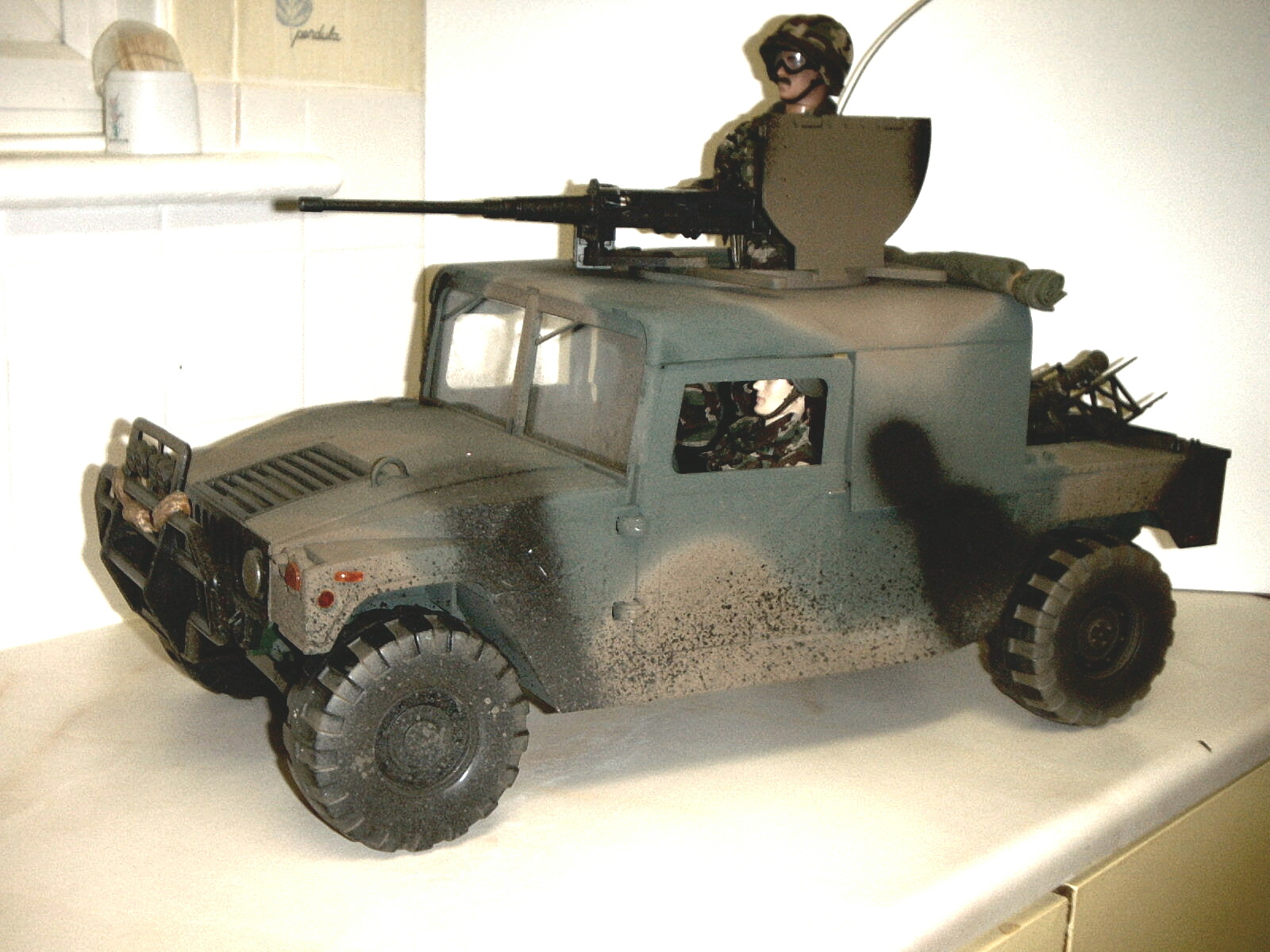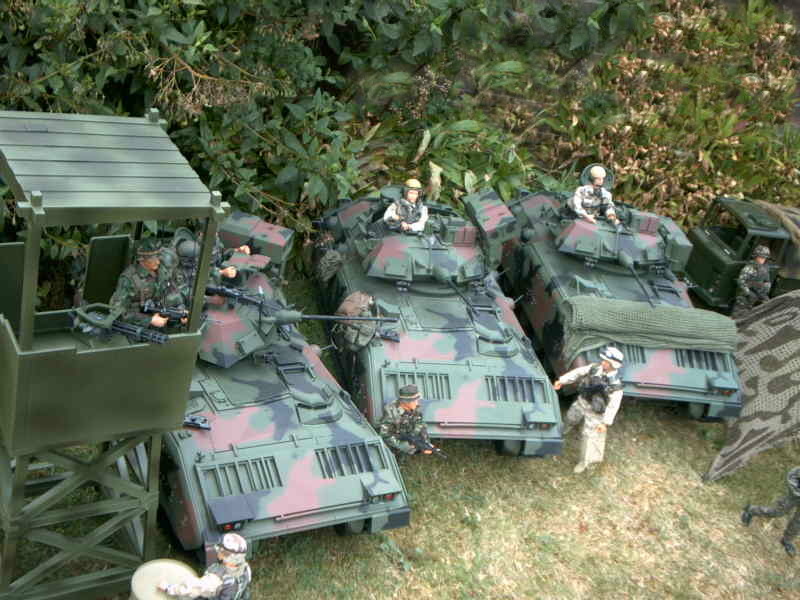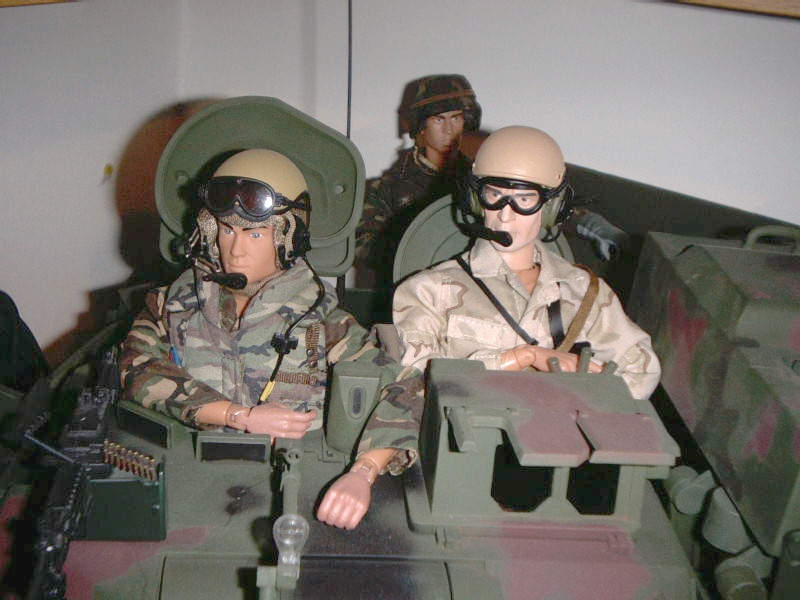 Hot Toys Tanker outfit is on the left and DML Kent is on the right.Out of the three Uniforms on this page the Dragon (DML) version is the worse,the Helmet is moulded to the Figures head! .The Hot Toys version is by far the best.
Somewhere in between the above two Uniforms comes 21st Centurys as shown to the right. For the money you can't go wrong,nice Helmet and Mike with a OK Tankers Coverall and Boots,lots better than DML's poor offering but only available in Woodland Camo .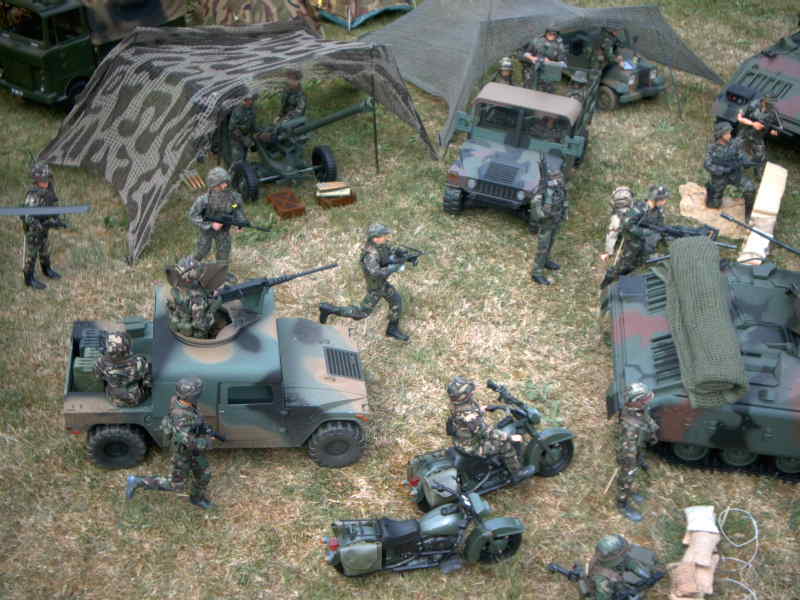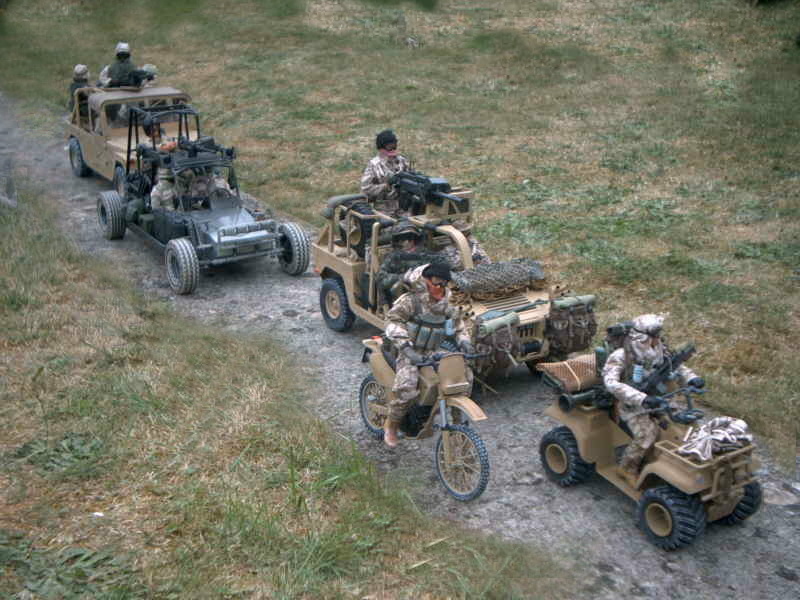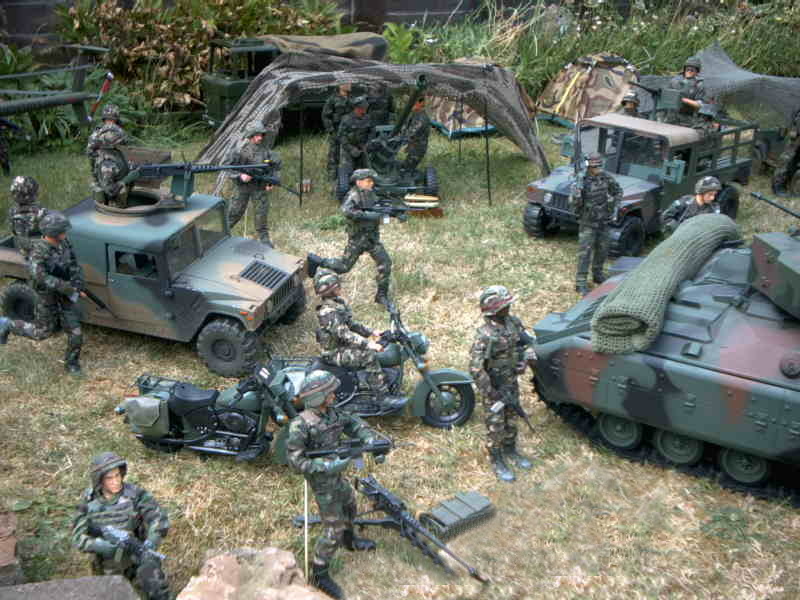 PLASTIC PANZER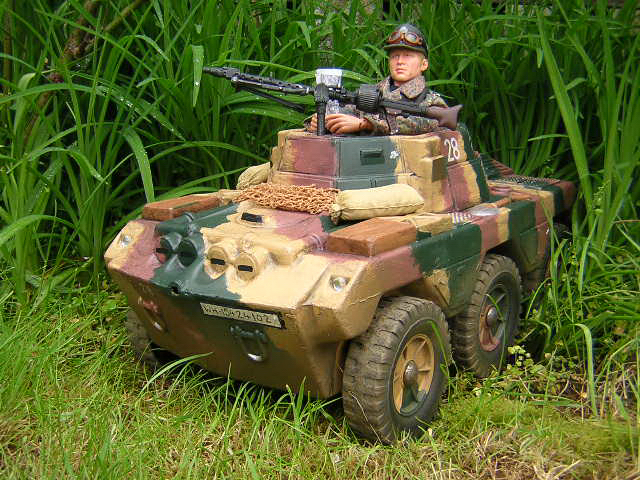 I was bored so I knocked this up using an old Cherilea Armoured Car and some left over Paint.....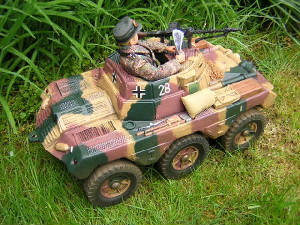 It's not supposed to be any actual make just a fun representation,it looks German so I'm happy.
Below is a picture of part of my Vintage Cherilea,Sharna and Palitoy Vehicle collection which I recently sold off to finance some more of the Modern stuff!.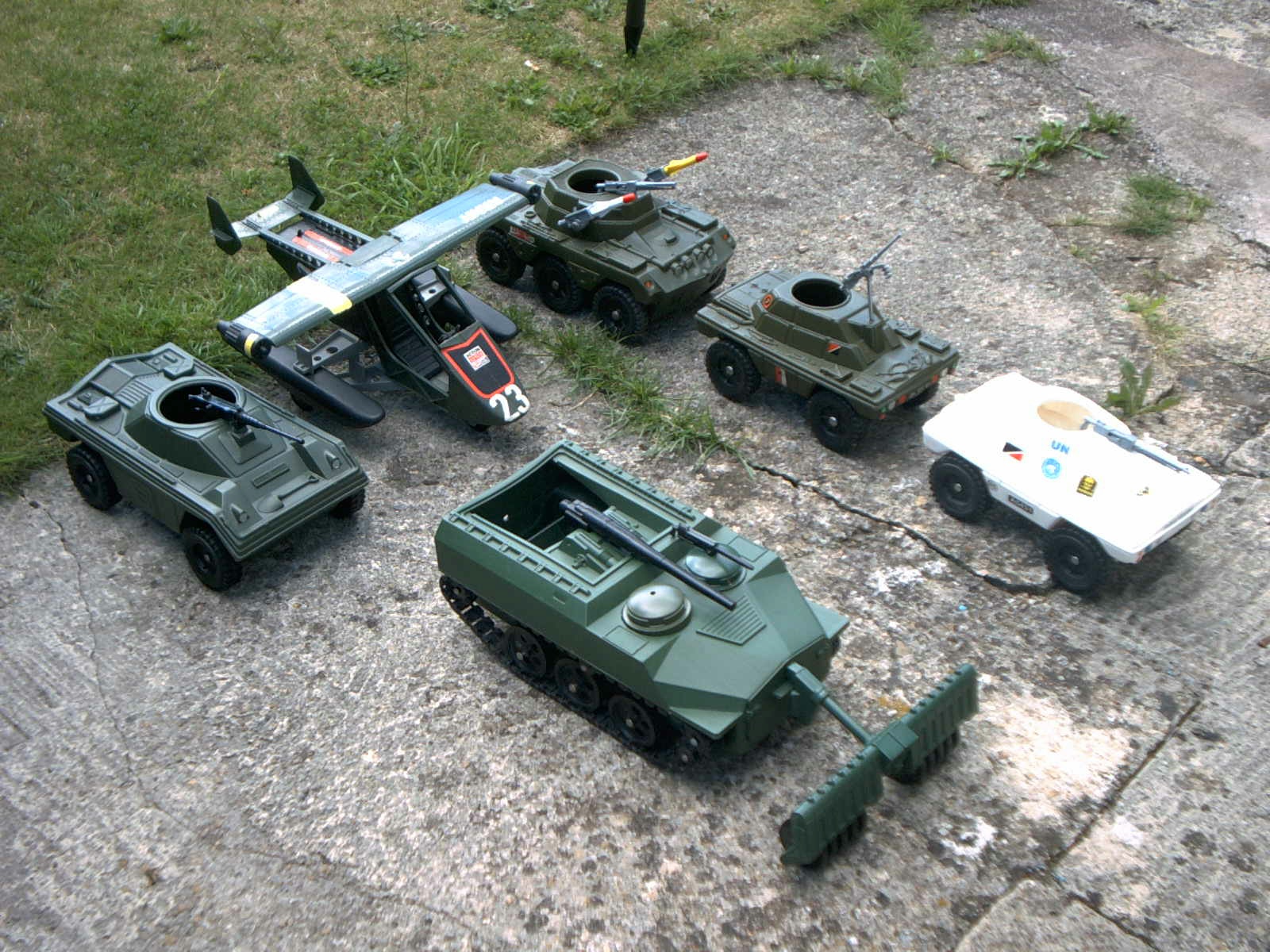 SHARNA 6 WHEELED ARMOURED CAR.
This is my almost mint 6 Wheeled Sharna A/C,quite a rare Vehicle and very large considering that most of the stuff made back in the 70's was underscale.This is very nearly 1/6th and larger than Hasbros M8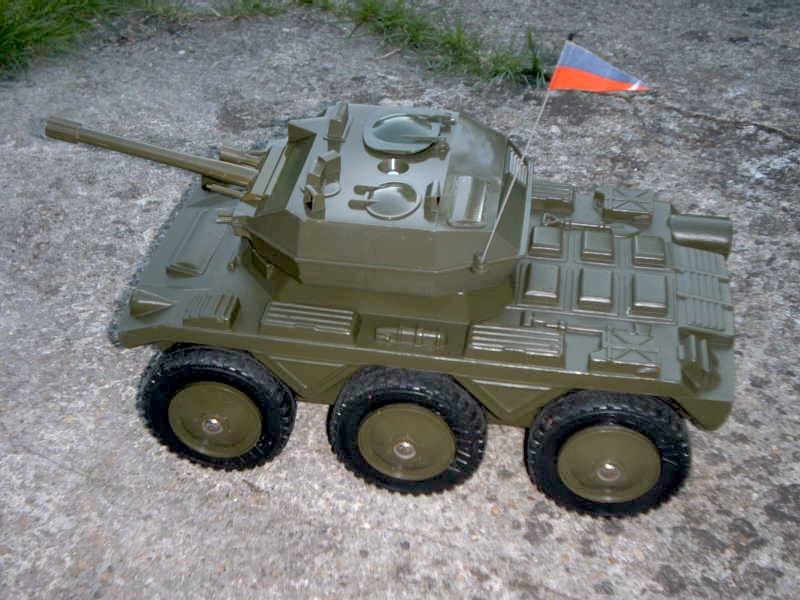 GI JOE M3 TANK DESTROYER
I've just sadly sold this one, I didn't really want to but it was taking up valuable space.I bought it intending to convert it into an M16 Motor Gun Carriage with quad .50 M2HMG's as used in Vietnam but I couldn't bring myself to cut it around. It was a nice Vehicle but slight underscale the same as most of the other GI Joe kit.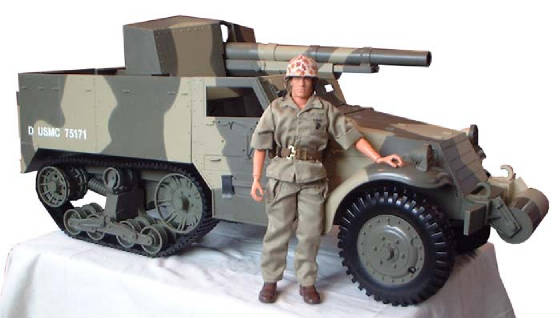 GI JOE M8 ARMOURED CAR
I've just sold this one too,same story as the M3. This was going to be an M8 in ARVN service at the start of the Vietnam War but time and space are at a premium so it had to go.